The purchase of a solid swing or sliding gate is an investment in personal security, where the aesthetic aspect should certainly not be forgotten. A well-considered choice and a long-term vision is indispensable, as one does not change every few years. In order to assist its customers in this respect, POORTLAND puts at their disposal a clear catalogue in which some 150 models and situations are illustrated with photos of both steel and aluminium gates. All the works shown are creations of Poortland.
Each model is available in all sizes and versions (swing or sliding gate).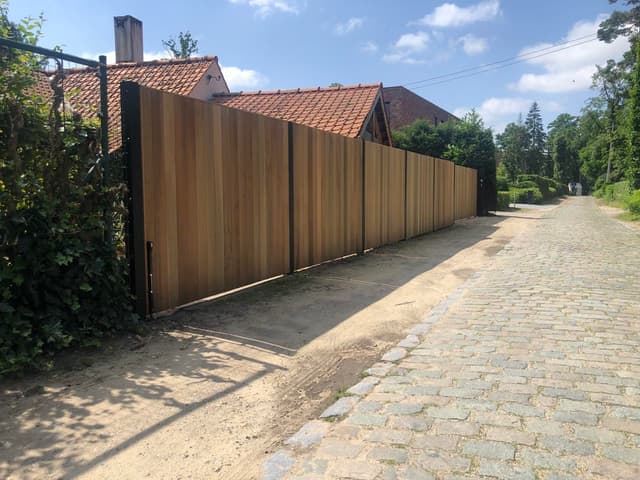 From information to order:
You can download the complete documentation folder from our website or, if necessary, you can request the same documentation folder at our offices, or by telephone, fax or e-mail. In this documentation folder, you will find around 150 installed models.
You can obtain a first price indication by requesting an estimate by fax, e-mail or preferably via our online enquiry form.
If you are interested after receiving our price estimate, please make an appointment with our experienced representative. They will take the measurements and give you any further advice. After this visit, you will receive a detailed quotation with a fixed price.
See our terms and conditions of sale.
Through the years of experience, Poortland has already developed a very wide range of classic and modern gates and fences. From these, each customer can make his choice, with or without personal adjustments.
In addition to the existing range, Poortland also specialised in making fences according to personal ideas, designs and creations of both private customers and architects. When studying the design, technical aspects such as overall rigidity and strength, safety, weight, resistance to corrosion and foundation requirements are of course taken into account.
If necessary, a detailed design is made using Autocad®. This programme can also be used to read and, if necessary, edit all architect's designs.
Poortland has its own workshop, where 4 experienced metalworkers take care of the production. Of course, quality always comes first here.
Poortland trains its own employees for a period of at least two years, during which the new employee is perfected in both general metalworking, such as sawing, milling, turning, folding, spinning and various welding techniques.
In addition to expert production, perfect installation is necessary for the success of a project. Poortland has about 4 employees who specialise in installing fences and gates. They also have professional material and the most modern equipment for level measurement.
With double and single swing gates, the posts are always placed directly into an on-site cast concrete foundation, if possible. This has the advantage of an extremely stable construction that will stand the test of time. Afterwards, of course, the paving will be restored to its original state.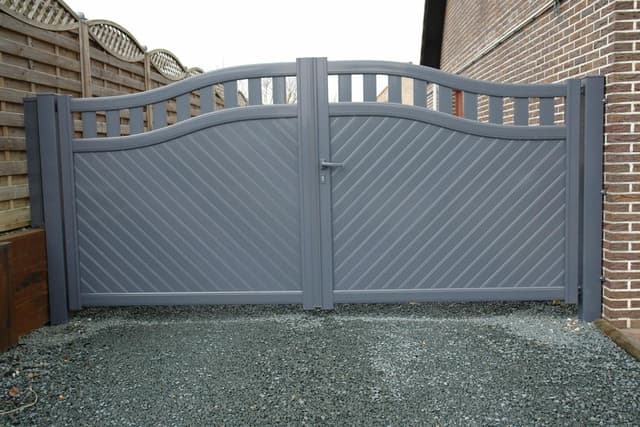 For the installation of the rail of sliding gates, Poortland uses a rail made of 100% stainless steel (inox) of its own design. With this rail, it is possible to work the original clinkers or cobblestones (up to a height of 8cm) back up to the rail after they have been concreted (depth of 60cm – below the frost line). As a result, no concrete is visible on the driveway.
For the installation of large gates, Poortland has its own truck with a 9m loading platform, equipped with a hydraulic crane. This way, we can install your gate in complete safety.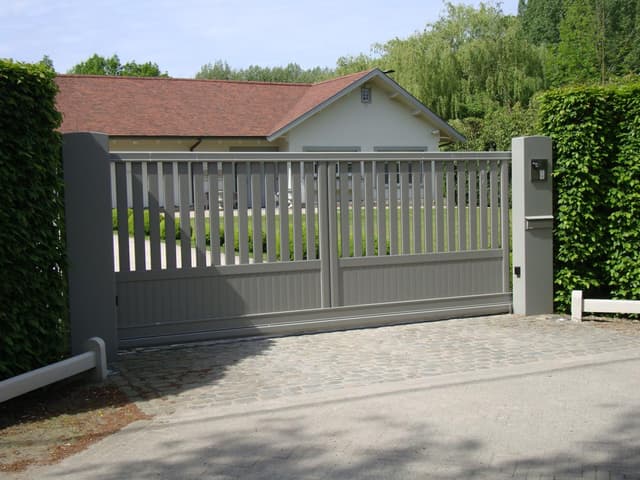 Warranty
The paint quality on all gates and fences is guaranteed for 10 years.
Guarantee
Warranty of 5 years on FAAC hydraulic actuators, 3 years on FAAC sliding gate actuators and 2 years on FAAC electromechanical actuators and electronic accessories.
Terms of sale
See our terms and conditions of sale here on our website.